I'm all about giving authors a second chance. Didn't particularly enjoy the first books that I've read by them? Never fear, my reading life is open to giving them another shot. Here is my top 5 list, (in no particular order):
Julie Buxbaum
's first YA novel,
Tell Me Three Things
, was something that I gave two stars to and seriously considered DNFing. The middle and ending seemed extremely draggy, and the mysterious element of the plot felt very predictable. However, with all that in mind, Buxbaum has a knack for writing realistic fiction in the high school settings. Her character actually act like real teens, with first loves, heartaches, and the dramas that come with being a member of that population.
Her next novel, comes out on July 11th and I'm willing to give it a try based on this part of the synopsis:"
When an unlikely friendship is sparked between relatively popular Kit Lowell and socially isolated David Drucker, everyone is surprised, most of all of Kit and David...
When she asks for his help figuring out the how and why of her dad's tragic car accident, David is all in. But neither of them can predict what they'll find. Can their friendship survive the truth
?
"
Lisa Unger
's 2016 release,
Ink and Bone
, was not my favorite thriller by any shot, and unfortunately didn't fill that thriller-sized hole in my heart. Throughout the whole book, I remember feeling so utterly confused on the events that were taking place, as well as finding some scenes completely unnecessary. However, the Unger definitively knows what she's doing. She has an extremely intriguing concept, and has a knack for keeping the suspense running high.
This next story, sounds like it will explore deep themes of things like justice and revenge, and follow two strong women's traumatic stories. Just this part of the excerpt make me shiver:
"
Strangers to each other, and walking very different paths in the wake of trauma, these two women are on a collision course—because Zoey's past nightmare and Claudia's dreams for her future take place in the very same house. As Zoey seeks justice, and Claudia seeks peace, both will confront the monsters at the door that are the most frightening of all.
"
Rin Chupeco
, who had one of my most anticipated book of 2017,
The Bone Witch
, which also had a beautiful cover, really didn't live up to all the hype that I expected. I gave it a measly 2 stars, because there was instalove, an irritating ending, & a confusing train of events. Honestly, for most of the book it felt like nothing significant happened. Where Chupeco did win was the the intricate & exquisite worldbuilding. Her voice feels like an authentic storyteller, with a vivid imagination that spills onto the page.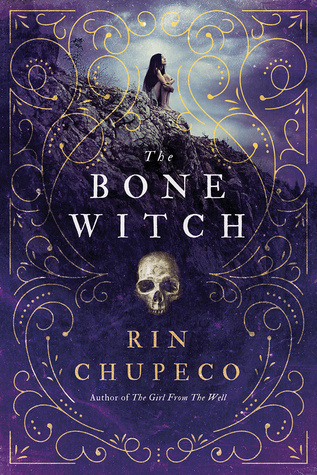 The next book in the series, entitled "
The Heart Forger
" which comes out on March 1, 2018. This seems to be the second continuation in the "The Bone Witch" series. I do plan on picking it up, just because I'm genuinely curious as to see her grow and mature in her writing style.
Shari Lapena
wrote a an immensely popular mystery thriller novel,
The Couple
Next Door
, which I thought was written in a fast-paced way which got me out of a reading slump. It have be engaged mostly, at least at the beginning it felt like there was action happening consistently. Towards two thirds of the way through, I lost that focus and engagement that had sustained me.I noticed some poor mental illness rep, which bothered me immensely, as well as an ending that I could not wrap my head around.
Her new book has the flavor of an intriguing premise that I think that I might genuinely enjoy this. Based on the synopsis, I feel an electrifying atmosphere with an unreliable narrator:
"
You wake up in hospital, with no idea how you got there. They tell you that you were in an accident; you lost control of your car whilst driving in a dangerous part of town.
The police suspect you were up to no good. But your husband refuses to believe it. Your best friend isn't so sure. And even you don't know what to believe ...
"
Roshani Chokshi
has written her debut novel,
The Star-Touched Queen
, which seemed to be lyrical magical story. For me personally, I only gave it two stars because I felt very unsatisfied with the character development, the lack of female friendship, and slut-shaming which I disapprove of. However, the writing is very lyrical and magical and quite exquisite, so I would like to take a shot with one of her future books that she will write.
Although I really didn't enjoy our main character in the first book, this companion novel follows her sisters' adventures. I feel like this might be a whole other beast of characters, and so I am eager to try out Choksi's writing style again with this lookin'-lovely book.
So, what are some of the authors that you potentially are willing to give a second chance?