I'm so excited to share the details for the pre-order campaign for Madeline Dyer's second novel, FRAGMENTED (book two in the Untamed Series).
About FRAGMENTED
After the terrible battle against the Enhanced Ones, Seven and Corin find themselves on the run. With the Enhanced closing in, Seven knows they need to find other people on their side. So, when the opportunity arises to join the Zharat, one of the last surviving Untamed tribes, it seems like the perfect solution.
But the Zharat lifestyle is a far cry from what Seven's used to. With their customs dictating that she must marry into their tribe, and her relationship with Corin breaking down, Seven knows she has to do something before it's too late. But that's easier said than done in a tribe where going against the rules automatically results in death.
And, with the Enhanced still out there, nowhere is truly safe for the Untamed—least of all for the most powerful Seer in the world… and Seven soon discovers how far people will go in order to ensure that she's on their side in the War of Humanity.
Battling against the emerging web of lies, manipulation, and danger, Seven must remember who she was meant to be. Her life has never been more at stake. Nor has humanity itself.
Word count
: 99,900
Genre
: Dystopian/Action & Adventure/Fantasy
Readership
: Edgy YA
Pre-orders are currently available through
Prizm Books
(US only) or
Torquere Press
(for international readers), and you can save 15% with discount code 'preorder15'. (Please note: although Torquere Press is primarily for LGBT romance, FRAGMENTED is
not
LGBT–it's just also for sale at that website as Torquere Press own Prizm Books).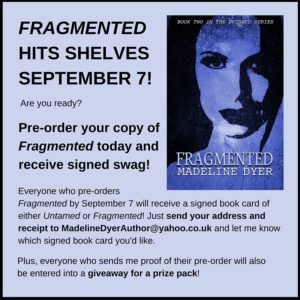 The Pre-Order Campaign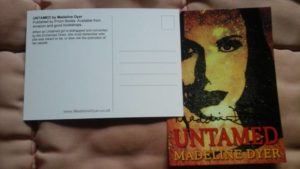 Everyone who pre-orders FRAGMENTED will receive a signed book card (either UNTAMED or FRAGMENTED) and be entered into a giveaway for a big prize pack! Just send your receipt along with your address to
MadelineDyerAuthor [at] yahoo [dot] co [dot] uk
.
And if you have a preference for which signed book card you'd like (either UNTAMED or FRAGMENTED) then let me know too! What is a book card? Good question!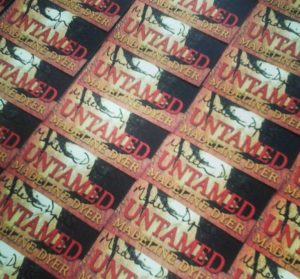 For those who don't know, my book cards are A6 postcard-sized cards, with either the cover for UNTAMED or FRAGMENTED on the front. I'll hand-sign each one on the front, so these can be used as bookplates and stuck into print copies of my books, should you so wish to do so. The back of each card also contains a little information about the book—and each can also be used as a postcard, should you so wish. So, get your pre-orders in! Pre-order FRAGMENTED and use discount code 'preorder15' to save 15% at:
FRAGMENTED will also shortly be available to pre-order at Amazon and other major retailers too.